OIL PAINTINGS
Fourteen of Suzanne Cooper's oil paintings remain in the possession of her family. One is in the Auckland Art Gallery. Another was bought at Bonhams Auction House in 2004. At least a dozen others were sold in the 1930s. If anyone knows their present whereabouts, please do contact us via this website.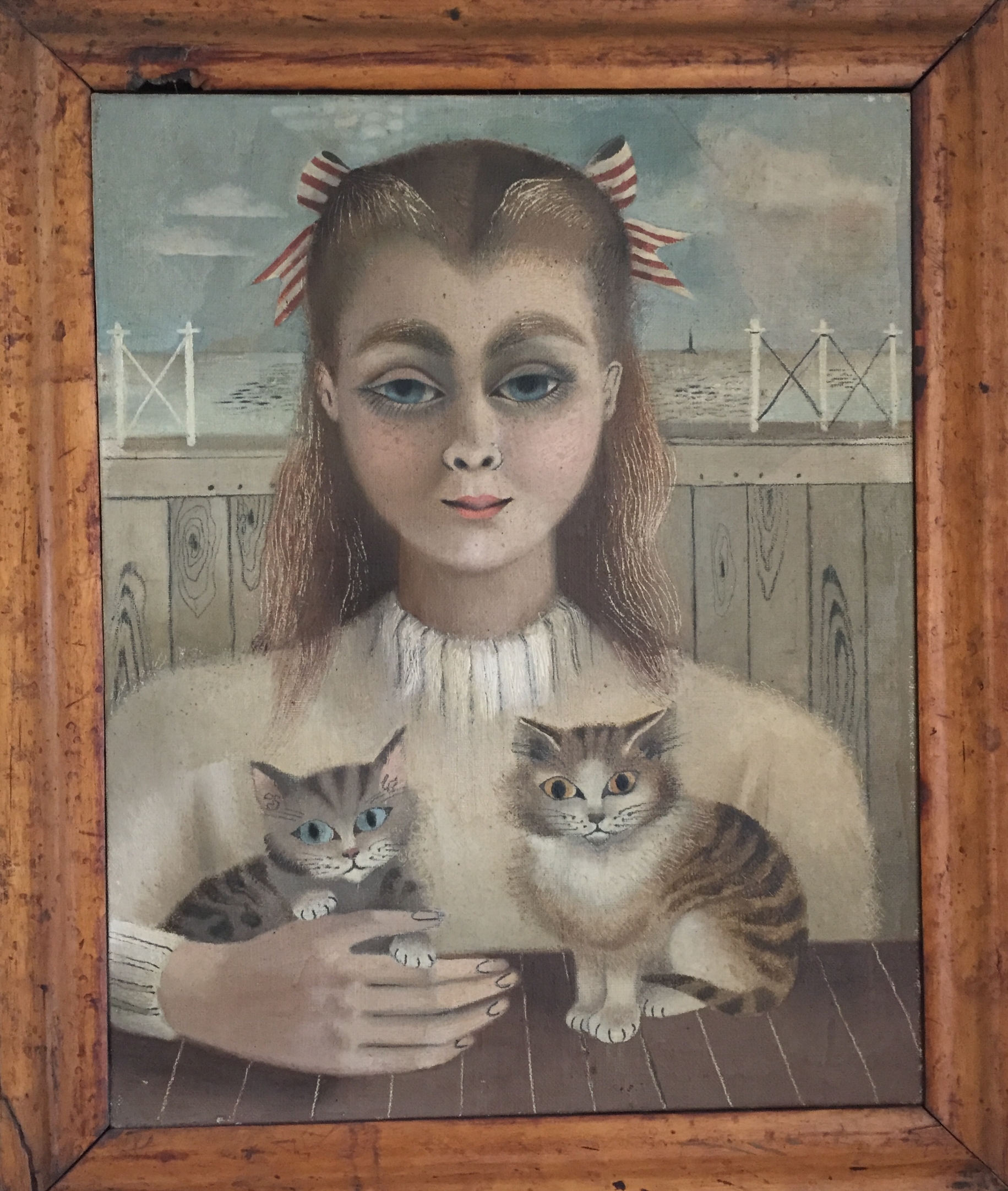 Shown with the National Society of Painters, Sculptors and Wood Engravers
oil on canvas 50 x 40 cms
One of several paintings of girls or very young women, each with an edge of eerie surrealism. Girl and kittens gaze at the viewer with disconcertingly similar eyes.
Suzanne Cooper's family remark that the girl's strongly arched eyebrows and the double curve of her hairline make this a disguised portrait of Michael Franklin, Cooper's husband.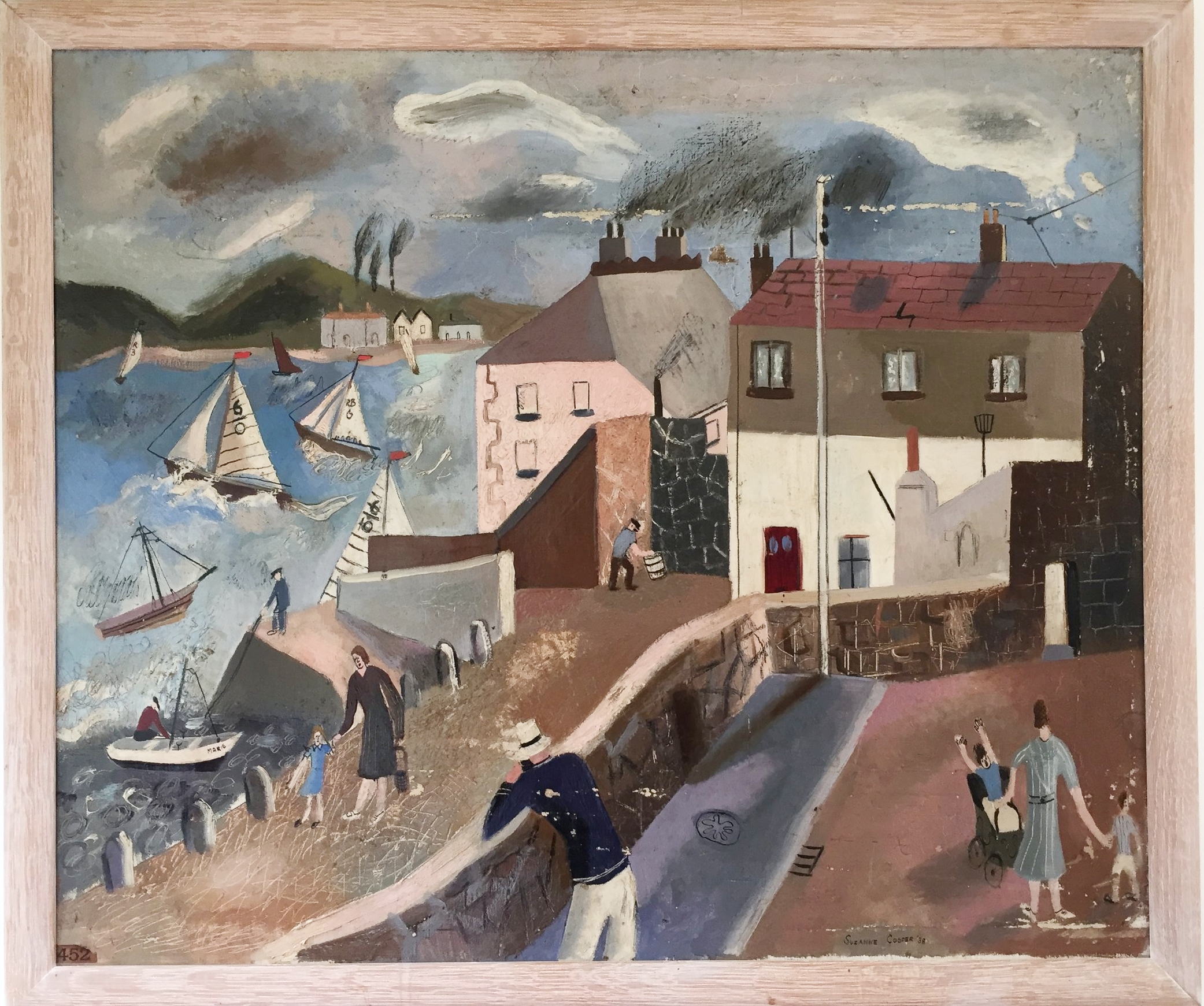 Shown with The National Society of Painters, Sculptors and Wood Engravers at the Royal Institute Galleries, Piccadilly
signed and dated 1938
oil on canvas - 63 x 76 cms

Appledore is a fishing village in Devon. Suzanne Cooper would have visited it while staying with her grandparents. Her grandfather was mayor of Torquay.
The child with upflung arms recurs in several of her pictures.
Suzanne Cooper included horses in several of her pictures but, as far as her family know, she was never a horsewoman. The initials on this one's blanket are those of her husband-to-be, Michael Franklin.
One of the very few works by Suzanne Cooper to have passed through the auction rooms. This lively street scene was offered for sale at Bonhams in 2004 and bought by John Lumley, then Director of Twentieth Century Paintings at Christie's.
Bloomfield Terrace is in Pimlico, near to the Grosvenor School. A pretty street of Victorian houses, it is still remarkable for the striped awnings over the windows and doors.
Signed lower left, signed again and dated 1936 on the back of the canvas,
oil on canvas, 24 by 20ins.
Provenance: Lucy Carrington Wertheim, London (inscribed Property of LCW on the back of the frame)
Exhibited London, Wertheim Gallery, Paintings and Watercolours by Rachel Reckitt, Jose Christopherson, Suzanne Cooper, Barbara Heale, Sept.- Oct. 1936, no.24 (priced at 8gns.)
Oil on canvas 61 x 51 cms
Another of Suzanne Cooper's haunting pictures of young girls. Lily of the valley was her favourite flower.
Still Life - All of the things depicted here are souvenirs of a cruise Cooper took in 1938. She kept the seashells for the rest of her life. The title is a misnomer - as always with her work, even inanimate objects are in dynamic movement. Darts fly; paper flutters; a ping-pong bat tilts; rich colours sing out.
oil painting 51 cm x 40 cm
Property of Regan Bevons,
The picture was recently given to Regan Bevons by her friend, the dealer Andrew Colcombe, a partner in Gable Contemporary, specialising in modern and contemporary art. Colcombe acquired the painting in 2014 in Switzerland from the artist Jose Christopherson, shortly before her 100th birthday. Christopherson and Suzanne Cooper exhibited work together in a group show at the Wertheim Gallery in 1936.
Jose Christopherson was married to another artist, Richard Weisbrod who died in 1991. Weisbrod came from a wealthy Swiss silk manufacturing family and came over to England in 1930, where he settled in Darwen, Lancashire and set up a silk manufacturing business. He held some joint shows with L. S. Lowry.
Thames in October
oil on canvas, 57 x 82 cms, signed on back and dated 1936
exhibited at the Royal Institute Galleries with the National Society
Even in London, Cooper was always drawn to depict boats on water. She explored this image in three different media – this oil painting, a line-block print and two scraper-boards.
The Blue Jug
oil on canvas, 51 x 62 cms, frame dated 1945
Cooper's distinctive palette of soft greys, duck-egg blues and dusty pinks is exemplified in this still life with flowers.
oil on canvas, 26 x 31 cms,
Exhibited with the National Society of Painters, Sculptors and Wood Engravers 1947
This small picture was to prove the first of a series of similar images. After she stopped painting in oils Cooper produced several pastels showing four-square houses juxtaposed with wind-swept trees.
pastels
After the war Suzanne Cooper did no more oil-paintings, but she continued to work in pastel and chalk.