WOOD engravings
During the 1930s Suzanne Cooper produced a series of wood engravings. Her teacher at the Grosvenor School, Iain Macnab, treated her as a favoured protégée and peer, affectionately inscribing a copy of his book on engraving to her with the words 'From one woodpecker to another'.
Some examples of the first edition of wood-engravings are now in the collection of the Whitworth Art Gallery, Manchester.
Suzanne Cooper's family still have the original blocks for the wood-engravings she made in the 1930s. A new limited edition of forty-five prints of each of the eleven images was made in 2018, expertly printed by Phil Abel, of Social Enterprise Press, using the original matrices. The prints are numbered. Each print is authenticated by Dan Franklin, the artist's son.
These second edition prints are now on sale. You can email us using the form on the Contact page of this website, and we will send you whichever print you chose. Prices, as marked below, are for unframed prints. There is no charge for postage within the UK.
Brightlingsea is a seaside town in Essex, not far from Suzanne Cooper's childhood hometown of Frinton. She would have known the place well when it was still a bustling fishing port.
The strong verticals of the foreground figures stabilise a composition typical of Cooper's dynamic handling of space. Sea and land swirl together beneath a high horizon. Houses tilt: steamboats and horses hurry. Waves and clouds echo each others curves. With its abundance of detail, and great variety of marks, the image demonstrates Cooper's remarkable inventive energy
£245
wood engraving 23 cms x 20 cms
Several of Cooper's contemporaries at the Grosvenor School in the 1930s were making lino-cuts under the tutelage of Claud Flight, in a style strongly influenced by Vorticist and Futurist art. This wood-engraving displays a similar aesthetic.
A night-time street scene, full of modernist imagery of motorcars and electric lighting, becomes an almost abstract composition.
Tantalisingly, the catalogue for a group show at the Wertheim Gallery in 1937 lists an oil painting by Suzanne Cooper also entitled 'Fog'. At least a dozen of her paintings were sold during the 1930s: their present whereabouts are now unknown.
£245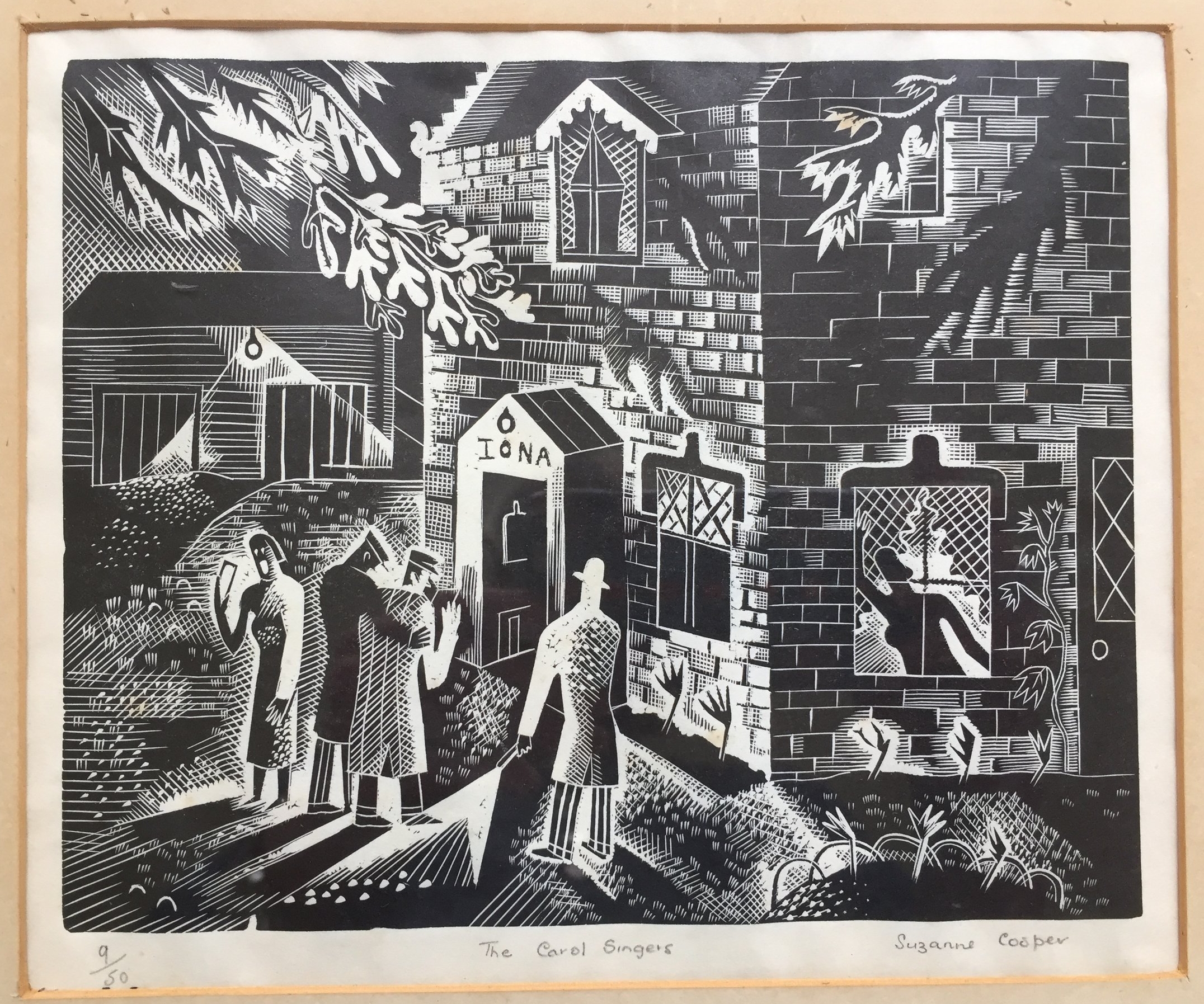 wood engraving 17 cms x 19 cms
Despite its cosily reassuring title, this enigmatic image is full of drama. Is the woman on the left singing, or crying for help? Are the men sharing a carol-sheet, or is one comforting the other? Why is the woman at the window apparently so distraught?
£195
wood-engraving 19 cms x 16 cms
The Falcon, was and still is, a popular inn in Rutland's Uppingham. In this roofscape, seen from a bedroom window, Cooper creates a complex pattern of rectangular roofs and walls, charmingly framed by the curves of curtain and pot-plant, beneath one of her characteristic high horizons.
£195
wood engraving 14 cms x 18 cms
A domestic scene infused with vitality by the tilting lines and gesticulating figures. Even the cat is on the alert.
£195
wood engraving 10.5 x 14 cms
Iain Macnab inscribed a copy of his book on wood-engraving to Cooper, with the words 'From one wood-pecker to another'. This small image, with its complex geometry and wonderful variety of marks, demonstrates her remarkable command of the difficult medium.
£150
line block print 11 x 14 cms
This line-block print is a simplified version of the oil painting of the same name.
£120
wood engraving 8 x 11 cms
Looking like the hidden house of a fairy-tale, this is actually a depiction of Cooper's childhood home, Budleigh House on 2nd Avenue in the Essex seaside resort of Frinton.
£150
wood engraving 8 x 10 cms
This townscape strongly recalls the work of Suzanne Cooper's mentor, Ian Macnab, master wood-engraver and founder of the Grosvenor School.
£150
Wood engraving 14 x 14 cms
Another memento of Cooper's Caribbean cruise. In later life she made a number of cushions, embroidered in petit point to her own designs. Several of them include butterfly motifs.
£120
Wood engraving 4.2 x 2.97 cms
An image closely related to the wood-engraving 'Carol Singers I'
Cooper's ability to produce fine work on such a tiny scale is all the more remarkable for the fact that her eyesight was terrible. She never took her glasses off, even on her wedding day. As a young girl, bicycling through Frinton, she once rode down a policeman, mistaking him for a bollard.
£120